Winona Horsley Obituary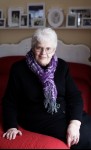 January 27, 1944
-
June 1, 2019
Born in Livingston, MT
Resided in

Winfield

,

Illinois
Obituary
Winona Horsley, 75, of Winfield, IL entered into the presence of her "Maker, Defender, Redeemer, and Friend" on June 1, 2019. She died with grace and dignity in her home, surrounded by family and friends.

Born to Estil and Bessie Franks on January 27, 1944, in Livingston, Montana, she was the fifth of nine children. She graduated from Park High School in 1962. In March of 1963, she married the love of her life, Raymond Horsley. Ray worked for the Burlington Northern Railroad. Winona invested her life in the lives of others and fostered a loving home. In 1986, after the closing of the Livingston Railroad, Ray, Winona, and their family moved to Alliance, Nebraska. In 2011, the couple moved to Winfield, Illinois.

Hospitality was Winona's trademark. Serving as church hostess, working at Clydehurst Christian Ranch, teaching Sunday school, leading AWANA groups, caring for the ill, "kidnapping" other women in the middle of the night for late-night shenanigans, making mints and baked goods for countless events, providing delicious meals to others, facilitating and attending Bible studies, supporting Christian women, spending quality time with her beloved family, participating in any activity that involved children and babies, laughing until she cried, supporting missions, helping others, and serving Jesus Christ was the priority of Nona's life. For many, she was the first point of contact when life presented them with challenges because she would speak and act both in love and in truth. She sacrificially signed up for the journey with anyone who was struggling.

She strived to be the best example of Christ, and her ultimate compass was the Bible. It was her source of life and instruction. On her wedding day she carried a small Bible, covered in roses and ribbon, as a constant reminder of her priority, a priority that never dimmed from her focus. For years she taught and sang a simple song with her Sunday school classes, "The B-I-B-L-E, yes that's the book for me. I stand alone on the Word of God, the B-I-B-L-E." A fitting song for the theme of her life.

Among the many who loved Winona, she is survived by her dedicated and faithful husband of 56 years, Raymond Horsley (Winfield, IL); her daughter Shelley Sanders (Alliance, NE); her son Timothy Horsley (Winfield, IL); her granddaughters Whitnie Jones (Alliance, NE), Keelie Torres (Lincoln, NE), and Bethanie Sanders (Lincoln, NE); her seven great grandchildren Ky-Ray, Tateum, Tay'Shyn, Maliah, Gianni, Draven, and Saibri; her siblings, Nancy/Herbert Hedgecock (Columbus, OH), Margaret/Peter Napthine (Livingston, Mt), Loretta Goben (York, NE), Estil/Diane Franks (Glendive, MT), John/Debbie Franks (Livingston, MT), and Kathy/Rick Bailey (Austin, MN); her sisters-in-law Sheila Franks, Jamie Franks, Patsy Brandon, and Carlene Horsley; her brother-in-law Stephen Wiltgen; her nieces and nephews, Valerie Anderson, Cheryl Ellison, Rod Goben, Tana Albin, Krista Staley, Michelle Bailey, Mark Franks, Scott Franks, Ty Franks, Lanie Ketcherside, Sunday Franks, Tyler Franks, Tanner Franks, Jason Franks, Ric Baileykaze, Talia Cambell, Steve Wiltgen, Eva Pearson, Allen Kent, Penny Uecker, Angela Brandon, Rob Brandon, Don Brandon, Kim Horsley, Keri Raney, and Chris Horsley; her numerous great and great great nieces and nephews; and her church families, The Livingston Bible Church, The Alliance Berean Church, and Parkview Community Church.

She was preceded in death by her parents Estil and Bessie Franks; her siblings Paul/Eleanor Franks, Joanne/Bud Osborn, Garret Franks, William Clyde Franks, and Rhonda Wiltgen; her parents-in-law Lavern and Vera Horsley; her sister-in-law, Ruth Wilmott; and her brothers-in-law, Wayne Goben and Jack Horsley.

A special thank you to the Livingston Bible Church, The Alliance Berean Church, Parkview Community Church, Ken and Karen Mauriello, Peter Mauriello, and Angela and Sheppard D'Onofrio for their sacrificial love in caring for Winona.

Three Celebration of Life services will be held to honor Winona.

Parkview Community Church
764 St. Charles Road
Glen Ellyn, IL 60137
Sunday, June 23
3:00 PM
Reception to follow

Alliance Berean Church
1639 Emerson Avenue
Alliance, NE 69301
Saturday, June 29, 2019
11:00 AM
Reception to follow

Livingston Bible Church
329 North 5th Street
Livingston, MT 59047
Saturday, July 13, 2019
11:00 AM
Reception to follow

Winona's favorite Bible passage and the song that she chose for her wedding was The Lord's Prayer.

"Our Father who art in Heaven, Hallowed be thy name.
Thy kingdom come. Thy will be done on earth, as it is in heaven.
Give us this day our daily bread.
And forgive us our debts, as we forgive our debtors.
And lead us not into temptation, but deliver us from evil:
For thine is the kingdom, and the power, and the glory, forever."
Amen

We grieve with hope, we lift our eyes to the Maker of heaven and earth, and we continue her legacy of faith and love.
Services
Service
Parkview Community Church
764 St. Charles Road
Glen Ellyn
,
IL
US
60137
Service
Alliance Berean Church
1639 Emerson Avenue
Alliance
,
NE
US
69301
Service
Livingston Bible Church
329 North 5th Street
Livingston
,
MT
US
59047