Sarah Sunday Obituary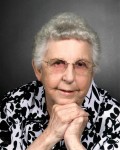 April 24, 1924
-
November 15, 2019
Born in Nichols, Florida
Resided in

St. Charles

,

Illinois
Obituary
Sarah "Doris" Sunday, age 95, of Woodstock passed away November 15, 2019 at Inspirations Senior Shared Living Home in St. Charles, IL. Doris is the beloved wife of the late Roy E. Sunday. Loving mother of the late Ruth Sunday, Bruce (Mary) Sunday and Laura Sunday Tobin. Dear grandmother of Andrew (Adrienne) Sunday, Katie (José) Lopez Sunday, Beth Ann (Phil) Waugh and Jonathan Tobin. Dearest great grandmother of Alex (AJ) and Aidan Sunday, Iker and Luna Lopez Sunday and Ryden, Eliza, Henley and Decker Waugh. Dear sister of the late Mary Guyett, Virginia Boyd and Anna Ruth Haddock. Doris was the daughter of the late Charles E. Haddock and Sarah D. (Stanton) Haddock.

Sarah "Doris" Haddock Sunday was born in Nichols, Florida on April 24, 1924. Sarah Doris was known throughout her life as Doris since she was named after her mother, Sarah Debitha. Shortly after her birth her family moved to Damascus, Georgia. Doris would often share many fond memories of her early days in Georgia whether it was running in the cotton fields, climbing trees or playing at the turpentine mill with her three sisters. The house Doris grew up in is still standing today but now has electricity and indoor plumbing.

Doris graduated from high school at 16 and soon after moved to Tampa, Florida where she worked for the civil service. Doris was keenly aware of families that had flags posted in their windows in honor of family members serving our country. Doris wanted her mother to have one of those flags in her window and since she only had sisters, Doris enlisted in the Navy and became part of the WAVES. She eventually was stationed at Norfolk, Virginia in the radio repair division, which was critical to Navy pilots. She met Roy Sunday, also working in radio repair, in the "chow" line at the base. They were married June 15, 1945 and continued to serve together in the Navy and later after discharge, moved to Toledo, Ohio to begin their life together.

Doris was deeply committed to her family. Together, Roy and Doris had 3 children, Ruth, Bruce and Laura. Doris was a grandmother to Andy, Katie, Beth Ann and Jonathan and then became a great grandmother to AJ (Alex), Aidan, Ryden, Eliza, Iker, Henley, Luna and Decker.

Doris was affectionally known as "Grandma Great" to all her great grandchildren. Doris met her 8th great grandchild Decker Andrew and literally passed minutes after Decker left. Doris was especially proud to hear that Decker was the 4th generation of Sundays to have the family name of Andrew as a first or middle name.
The great grandchildren would often stop to visit "Grandma Great", have lunch with her or play cards, usually "Kings in the Corner". Doris would often remark that she didn't remember how to play and then proceed to win the card game!! Doris' grandchildren fondly remember visiting, swimming, fishing and playing with their grandparents at Fyre Lake. Special road trips with their grandparents was another highlight of their childhood. Andy and Katie traveled west with Grandma and Grandpa while Jon traveled with Grandma back to her home in Georgia and was intrigued by the many family stories! Jon grew up a few blocks from Grandma in Woodstock so he was a frequent visitor to her home.

Besides family, Doris took time to be an active member of Grace Lutheran Church in Woodstock and First Lutheran in Sherrard, IL. Doris was also a dedicated Girl Scout leader for many years and would spend summers as the Nature Lady at Camp Chinook in Waukesha, Wisconsin. Doris and Roy also enjoyed square dancing for many years and the grandkids were very curious about the clothes they wore dancing.

Doris lived in Toledo, Ohio, Brookfield, Wisconsin, Fyre Lake and Woodstock, Illinois. For almost the last four years Doris was a resident of Inspirations, a senior shared living home in St. Charles, IL just a mile from her son Bruce. With just 6 residents it truly was like her own home. Her room was warm and inviting and truly a collection of all things meaningful and important to Doris including the family quilt and porcelain figures made by her daughter Ruth. While not an early riser one could always find Doris sitting at the table working a crossword puzzle or watching the birds on the patio. Besides cards and crossword puzzles Doris was an avid Scrabble player and would spend Sunday afternoons playing with Laura and guess who would win? (Not Laura)

Doris will be dearly missed by family and friends. Even after 95 ½ years and some dementia she never ever forgot her family and still maintained a sense of humor. We are especially grateful to her caregivers at Inspirations!!! They were outstanding in their love and care of Doris and were certainly a strong reason that Doris was able to live such a full life right up until the end.

We will miss you Grandma Great!!

A memorial service and visitation will be held on Friday December 6th from 9:30-10:30 am at DuPage Memorial Chapel, 951 W Washington Street, West Chicago, IL. Burial will be immediately following the service at the Abraham Lincoln National Veterans Cemetery in Elwood, IL where she will once again be joined with her beloved Roy.

In lieu of flowers the family asks for donations for Leukemia Research at:
Monroe Carell Jr. Children's Hospital at Vanderbilt, VUMC Gift and Donor Services, 3322 West End Avenue, Suite 900, Nashville, TN 37203 or online at www.vanderbiltchildrens.org/giving.
Services
Memorial Visitation
DuPage Memorial Chapel
951 W. Washington St.
West Chicago
,
IL
60185