Raymond Horsley Obituary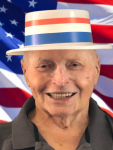 February 12, 1940
-
June 2, 2020
Born in Sheridan, Wyoming
Resided in

Winfield

,

Illinois
Obituary
Raymond Raisbeck Horsley, 80, of Winfield, IL died June 2, 2020. In his words, he trusted the Lord, his guide, to take him home. Doctors often misunderstood Ray's language of "going home," because the home that Ray referenced was not a building of stone and mortar, but his heavenly home in the presence of Jesus Christ, his savior.

Born to Lavern and Vera Horsley on February 12, 1940 in Sheridan, Wyoming, he was the eldest of four children. He graduated from Billings Senior High School in 1958. He served in the Navy (Iron Angels -VF141) from 1958-1962. He served in the National Guard from 1963-1986. In March of 1963, he married the love of his life, Winona Fern Franks. His career as an electrician for the Burlington Northern Railroad began in Livingston, Montana in 1963 and ended with his retirement in Alliance, Nebraska in 2002. Ray and Winona moved to Winfield, IL in 2011.

Son, brother, soldier, electrician, mechanic, singer, friend, husband, Dad, Papa, and Great-Grandpa were more than words to Ray. He embodied roles that served others and he did so with the happiest of hearts. No challenge in life, and there were many, ever stole his joy. He was sacrificial, but his sincere humility transcended such words, because he was convinced that anything good in him was not of himself, but a gift from God. If he was recognized, appreciated, or affirmed, it was met with, "well, then, praise the Lord." His faith, his service, and his relationship with Christ were pure. Denying the love of God in the presence of Ray was nearly impossible because that love was palpable. He was the hands and feet of Jesus Christ.

He was a second dad, a mentor, a friend, and a support to many. He joyfully stepped in when help was needed. Homes were wired, songs were sung, cars were fixed, machines were repaired, gardens were planted, barns were raised, roads were traveled, jokes were told, freedoms were preserved, hugs were given, the Bible was taught, needs were met, and people were loved, valued, and served because he lived and because he walked humbly with his God. In humility, he lovingly cared for Winona, his wife of 56 years, after she suffered two major strokes. He kept his promise to her and to God in loving, honoring, and cherishing her in sickness and in health until by death they parted. Ray loved his wife as Christ loved the church and in doing so, he reflected the love of Christ to a world that desperately needs authentic sacrificial love.

He was a simple man: Not the kind of simplicity that stems from a lack of intelligence, but a simplicity that remains steadfast and focused on bringing praise to God and allowing all else to fade away. He was not a perfect man, nor would he ever pretend to be. Ray wrote, "God is still working on me (He hasn't given up on me) and I know He will be working to mold me to His image until I go home to be with Him."

Ray is survived by his daughter Shelley Kay Sanders (Alliance, NE); his son Timothy Raymond Horsley (Winfield, IL) his granddaughters Whitnie Jones (Alliance, NE); Keelie Torres (Lincoln, NE); and Bethanie Sanders (Lincoln, NE); his nine great grandchildren; Ky-Ray, Tateum, Tay'Shyn, Maliah, Draven, Gianni, Saibri, Railyn, and Annlee Fern; his sister Patsy Brandon (Livingston, MT); his siblings-in-law, Margaret (Peter) Napthine (Livingston, MT), Loretta (Wayne) Goben (York, NE), Estil (Diane) Franks (Glendive, MT), John (Dee) Franks (Livingston, MT), and Kathy (Rick) Bailey (Austin, MN); his nieces and nephews, Eva Pearson, Allen Kent, Penny Uecker, Angela Brandon, Rob Brandon, Don Brandon, Kim Horsley, Keri Raney, Chris Horsley, Valerie Anderson, Cheryl Anderson, Rod Goben, Tana Albin, Krista Staley, Michelle Bailey, Mark Franks, Scott Franks, Ty Franks, Lanie Ketcherside, Sunday Franks, Tyler Franks, Tanner Franks, Jason Franks, Ric Baileykaze, Talia Cambell, Steve Franks; his numerous grand and great nieces and nephews; his Church families, The Livingston Bible Church, The Alliance Berean Church, and Parkview Community Church; his Barbershop Chorus families, The West Towns Chorus, and The Chorus of DuPage; his many friends, with special thanks to; Ken Mauriello, Karen Mauriello, Peter Mauriello, Angela D'Onofrio, and Sheppard.

He was preceded in death by his wife Winona Horsley; his parents Lavern and Vera Horsley; his sister Ruth Wilmott, his brother Jack Horsley; his parents-in-law Estil and Bessie Franks; his siblings-in-law Paul (Nancy) Franks, Nancy (Herb) Hedgcock, Joan (Bud) Osborne, Garret (Sheila) Franks, William Clyde (Jamie) Franks, Rhonda (Steve) Wiltgen; and his nephew Adam Pearson.

On the day of his death, Ray and his son read The Daily Bread, a long-time daily devotional for the Horsley family. Psalm 23 was the suggested Bible reading. In this great psalm, David refers to God as his shepherd. Ray recited these words with contentment, assurance, and strength fully trusting that the good shepherd would guide him to the Kingdom of God where he would dwell in the house of his Lord, forever.

Although our hearts are broken, we will, like Ray, recognize that our light and momentary troubles are achieving for us an eternal glory that far outweighs them all. And, in response, we can only join with Ray and say, "well, then, praise the Lord."

Psalm 23
The Lord is my shepherd; I shall not want. He maketh me to lie down in green pastures: he leadeth me beside the still waters. He restoreth my soul: he leadeth me in the paths of righteousness for his name's sake. Yea, though I walk through the valley of the shadow of death, I will fear no evil: for thou art with me; thy rod and thy staff they comfort me. Thou preparest a table before me in the presence of mine enemies: thou anointest my head with oil; my cup runneth over. Surely goodness and mercy shall follow me all the days of my life: and I will dwell in the house of the Lord forever.

Following an on-site military service, Ray and Winona will be buried together at Black Hills National Cemetery in Sturgis, South Dakota. Due to current COVID-19 restrictions, military and additional service information will be updated as soon as we are able to schedule and provide an honoring public service.
Services
Funeral Home
DuPage Cremations, Ltd. and Memorial Chapel
951 W. Washington St.
West Chicago
,
IL
US
60185
2020-07-06T