Patrick Haiman Obituary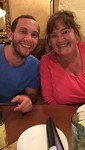 November 12, 1990
-
September 4, 2019
Born in Chicago
Resided in

Addison

,

Illinois
Obituary
On 9/4/19, the mass murderer that is addiction claimed another victim. Patrick R. Haiman succumbed to the deep visceral wounds inflicted upon his mind, body, and soul by addiction. He is survived by his mother Mary Ann Haiman, brothers Brad (Cristie) and Justin (Megan) Smolenski, sister Michelle Smolenski, nieces Alexis, Jozlynn, and Brianna, and nephews Alec, Jaxson, Mason, Gavin, and Logan. Patrick grew up a sweet, charming, and funny kid. He was enamored with his older siblings, and they reciprocated his adoration.

At the age of 9, he and his mother were abandoned by his father, a deep psychological scar that would prove to be a catalyst for a new, dark path later in life.
As he grew up, he grew to love baseball, working hard to improve in his little league teams until he was a fixture on the All Star teams.
Despite his success in athletics, he would constantly doubt his own self-worth, despite constant efforts from his mother and siblings to convince him of his true value. He turned to several vices early to mask his pain and lack of self-appreciation, beginning with cigarettes, then marijuana. In his late teen years, he tried heroin for the first time, and plunged into a long, and ultimately lethal, relationship with opiates.

To some, he was no more than a common junkie. People saw nothing but his addiction, not the wonderful young man that once existed beneath it, despite the flashes of that young man constantly breaking through and showing that he was, in fact, still in there. People who truly knew him knew that when he fought out from the smothering grasp of his addiction, he was warm, caring, and hilarious. He was confident that he was going to beat this sickness, and seize the destiny he longed for and deserved.

He was friendly and fearless, befriending many a counselor and probation officer in a system where addicts are constantly neglected and being viewed as criminals, rather than the victims of an illness that they really are.

During the last year of his life especially, his disease brought him to places of incredible darkness. Each time he faltered or relapsed, and each horrible thing he did in the name of his addiction brought him more pain and more shame. His family tried, and believed that he would overcome his addiction. But his addiction stalked and haunted him, stealing him over and over again. Though he fought valiantly, and repeatedly, eventually he was overcome, beaten into eternal submission by a relentless disease. While his death was unexpected, the fact is that Patrick was an addict. His family all feared that it would one day claim his life, and on Wednesday, September 4th, it finally did.

A celebration and remembrance of Patrick's life will be held at Bloomingdale Church, 264 Glen Ellyn Rd, Bloomingdale IL on Saturday, September 14, at 10 AM. In lieu of flowers, the family has requested that you send a donation in Patrick's name to Live 4 Lali. If you or someone you know suffers from drug addiction, and you need help… we, as the grieving family of one of the hundreds of thousands of victims of this disease, implore you… please reach out. Someone will listen. Someone will help.
Services
Memorial Visitation
Bloomingdale Church
264 Glen Ellyn Rd.
Bloomingdale
,
IL
US
60108
Celebration of Life
Bloomingdale Church
264 Glen Ellyn Rd.
Bloomingdale
,
IL
US
60108
Charities
Live for Lali
3255 N Arlington Heights Rd #508
Arlington Heights, Illinois usa 60004

https://live4lali.org