Jose Garrido Rodriguez Obituary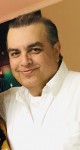 Jose
Leonardo
Garrido Rodriguez
October 9, 1961
-
October 31, 2019
Born in Peru
Resided in

Mt. Prospect

,

Illinois
Obituary
José Leonardo Garrido Rodríguez, "Gino", de 58 años, falleció el Jueves 31 de Octubre del 2019 en el Hospital Northwest Community rodeado de su amada familia.
Amado esposo de Rosana Patricia Valencia Farfán, "Chana" , padre amoroso de Gino, José "Pepe", y Deborha Garrido; querido hermano de César, Rosario "Charo", y Jorge.
Gino era un hombre muy noble, nunca dudo en tender la mano a quien necesitaba de su ayuda. Gino busco dar el mejor de los ejemplos a sus hijos, enseñándoles que no hay mejor virtud que ser humilde y vivir la vida de manera correcta; siempre buscando hacer el bien, amar a la familia y a Dios sobre todas las cosas. Vivió para alegrar a quienes lo rodeaban, desde el momento que despertaba lograba contagiar esa energía y ganas de vivir. Fue un esposo, padre y hermano amoroso, vivió cada minuto de su vida enamorado de su esposa e hijos. Fue un hombre muy trabajador; que no dudaba en trabajar las horas que fueran necesarias para darle a su familia la mejor calidad de vida. Fue un gran amigo, compadre, tío, que sin dudar sabía escuchar, aconsejar y brindar su ayuda en los momentos difíciles por los que atravesaban los demás. Un hombre amado por todos, quien será recordado y añorado en los corazones de quienes tuvieron la dicha de conocerlo.
Una celebración en honor a él se llevará a cabo el Martes 5 de Noviembre en DuPage Memorial Chapel, 951 W. Washington St. en West Chicago. Los familiares y amigos pueden reunirse desde las 3:00 p.m. hasta la hora del servicio a las 7pm, que finalizará a las 8pm.
La familia quisiera extender su más sincero agradecimiento a DuPage Memorial Chapel por su gran apoyo durante este momento difícil y un agradecimiento especial al personal del Hospital Northwest Community por haber luchado junto con nosotros para prolongar la vida a nuestro querido papá.
———————————————————————————————————————

Jose Leonardo "Gino" Garrido Rodriguez, age 58, passed away on Thursday, October 31, 2019 at the Northwest Community Hospital surrounded by his loving family.
Gino was an exemplary man who never hesitated to help those in need, always setting a good example to his children. He taught them that there is no better virtue than to be humble, to always do good, love the family and to put God first above all. He lived to make those around him happy. From the moment he woke up he managed to always spread good vibes and remind his family of how life is beautiful. He was a loving husband, father and brother. He lived every minute of his life in love with his wife and children. He was a hardworking man; one who did not hesitate to work long hours to provide the best quality of life for his family. He was a great friend, uncle, compadre, who knew how to listen, provide the best advice and help in difficult times. Gino was a man loved by all; and he will be remembered and missed in the hearts of those who were fortunate enough to have met him.
A celebration of his life will be held on Tuesday, Nov. 5th at DuPage Memorial Chapel, 951 W. Washington St. in West Chicago. Family and friends may gather from 3pm until time of service at 7pm which will finalize at 8pm.
Services
Visitation
DuPage Memorial Chapel
951 W. Washington St.
West Chicago
,
IL
60185
Chapel Service
DuPage Memorial Chapel
951 W. Washington St.
West Chicago
,
IL
60185